Latest News
Matakana Moonshine wins spirit awards in San Francisco
Don't want to sound like we're boasting or anything, but we thought you might be interested to know that In The Bush Ltd. scooped Silver and Bronze at the San Francisco World Spirits Competition for our Matakana Moonshine Vodka and Gin.
Read more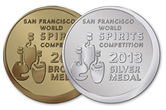 Liquor Licence
Liquor Licence Holder: In The Bush Ltd
Liquor Licence Number: 007/OFF/2653/2016
To view licence Click Here
Welcome
Welcome to the virtual home of Matakana Moonshine. Come on in and have a look around. No apologies for the mess, it's mostly due to those Aussie blokes hogging the Sheep Page (just kidding, we actually love you West Islander's with your funny accents).
There's an awful lot of water around as I write this, has been for eons in this part of the world. It filters down into deep aquifers and bubbles up hundreds of years later, full of healthy minerals and silica and so clean and pristine. We've got some of the best of the best on Planet Earth just up the road from Matakana at latitude 36 Down Under, perfect for making premium grade spirits. We've been doing this for years In The Bush for ourselves, and now we think it's time to share our range of fine distillates with you!
Hey, we might look a bit rustic for a premium product, I mean, some of the honey in our "Southern Style" actually settles in the bottom of the bottle because its real and whole and we can't be bothered nuking it or whatever you do to make things artificially transparent. We're using plain glass one liter bottles because we think it's better to give you more of the masterpiece inside, than scrimp on quantity so as to wank on with blingy smarty-pants marketing polava. We're not that slick. We just want to bring to you the very best quality unique New Zealand made spirits, and have some fun doing it!
No need to re-mortgage your house, just enjoy some Matakana Moonshine and we'll keep up the good work.
Cheers!